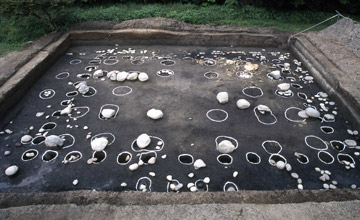 Archaeological excavation (1986)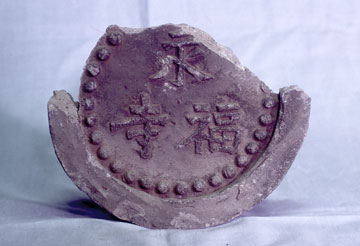 Excavated roof tile
Summary
Yofukuji Temple Site is located approximately 1.3 km north-east from Tsurugaoka Hachimangu Shrine. Yofukuji Temple Site is an archaeological site of a Buddhist temple which shows the samurai's intention to promote Buddhism together with Shintoism when the samurai established their power. As a temple constructed through valley development, this temple also had an influence on the site selection and the construction of Buddhist temples in Kamakura later on.
History
Yofukuji Temple is a Buddhist temple constructed in 1192 by Minamoto no Yoritomo, who defeated the Oshu Fujiwara clan and established the Kamakura Shogunate in 1189, to pray for the souls of the war dead of the enemy. Based on the "Azumakagami", it was identified that Yofukuji Temple was modeled after Daichoju-in of the Chuson-ji Temple and the Kondo (main hall) of the Motsu-ji Temple which was dignified in Hiraizumi.
After the death of Yoritomo, it prospered as a place of amusement for the Shogun family. However, after the fall of the Kamakura Shogunate, the power of the temple declined and it was abolished in the Edo Period.
In addition, through the numbers of archaeological excavations etc. which have been conducted since 1966, it was identified that the historic layout of the complex, its transition, and archaeological remains including garden pond and garden stream are preserved underground in good condition. Based on this result, Kamakura City drew up "Basic Concept for the Presentation of the Historic Site, Yofukuji Ato" in 1994, "Implementation Plan for the Presentation of the Historic Site, Yofukuji Ato" in 1997 and has been conducting step-by-step improvement work aiming at opening the site to the public and utilizing it since 2006.
Nikaido, Kamakura City.
From JR Kamakura Station East Exit: At Terminal No.4 take a bus bound for "Daito-no-miya", 5-minute walk from the last stop